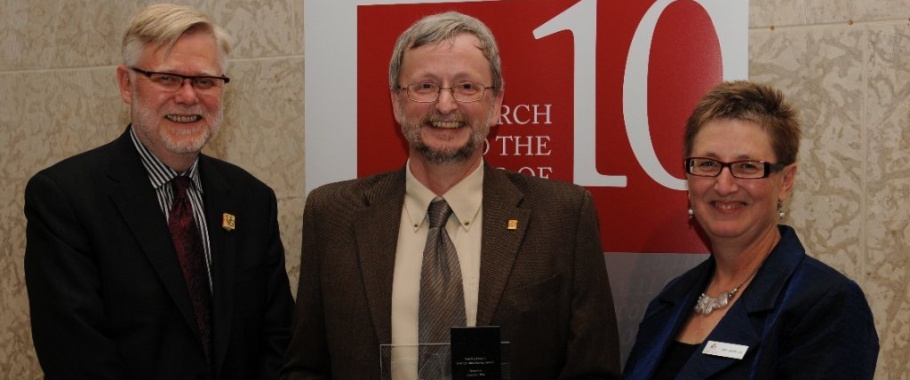 Ottawa – Sept. 8, 2010 – The Canadian Research Knowledge Network (CRKN) is pleased to announce Dr. Jonathan Blay as the inaugural recipient of the Ron MacDonald Distinguished Service Award. The award ceremony will coincide with the tenth anniversary Member Dinner at the Annual General Meeting on September 14, in Winnipeg Manitoba.
This award recognizes Dr. Blay as an individual who has demonstrated vision, dedication and outstanding service in building bridges to advance knowledge infrastructure in Canada.
Dr. Blay is a Professor of Pharmacology, Pathology and Biology at Dalhousie University and the Scientific Director of the Beatrice Hunter Cancer Research Institute. An active cancer researcher, Dr. Blay has also contributed at a senior administrative level in many aspects of research leadership, peer review and training.
Dr. Blay has been an active participant in CRKN since its inception as a pilot project (called the Canadian National Site Licensing Project - CNSLP), and has served on its Board of Directors since April 2004, earning the esteem of both the member network and the Board. Of particular note are his five years of service on the CNSLP Evaluation Task Group, and his leadership within that group is clearly seen in the national survey of researchers and the compelling evaluation report in 2004 that documented CNSLP's success.
"Jonathan has consistently challenged CRKN to look outward, and to focus on the synergies between researchers and libraries that will drive Canadian research forward," says Michael Ridley, Vice Chair of the CRKN Board of Directors. "His impact on our organization is profound and enduring."
Dr. Blay is a strong proponent of investment in knowledge systems to enhance research and education, especially as the availability of digital, open access material continues to change the research landscape.
"Although we are far ahead of things here in Canada, a great deal more could be achieved if librarians and researchers were engaged more deeply than at the present level," says Dr. Blay. "I've noticed some organizations looking at CRKN as a model for how things might be done in our present electronic environment. When you appreciate the challenges of forming such a collaborative venture in other contexts – academic, not-for-profit or commercial – the achievements of CRKN are nothing short of remarkable."
The Ron MacDonald Distinguished Service Award was created by CRKN in September 2008 to honour the late Ron MacDonald, a key contributor to the development of CRKN's collaborative programs and services.
About CRKN
The Canadian Research Knowledge Network is a partnership of Canadian universities, dedicated to expanding digital content for the academic research enterprise in Canada. Through the coordinated leadership of librarians, researchers, and administrators, CRKN undertakes large-scale content acquisition and licensing initiatives in order to build knowledge infrastructure and research capacity in 75 of Canada's universities.