Browse, search, and explore material from the Canadiana collections by following these guidelines. Additional guidance for navigating the Héritage collection in particular is offered at the bottom of the page, including reference guides for certain series.
Searching
Use the Canadiana search form to search for descriptive information and material metadata, such as titles, author/creator names, subject keywords, or the text content of books and other documents, where available. Search terms are not case- or accent-sensitive.
The following features can be used within the search box to refine the results:
Wildcards: ? and *
Use ? in the middle or at the end of a word to match any one character. Use * to match any number of characters (including zero).
Phrases: " "
To search for an exact phrase, enclose all of the words in double quotes. You cannot use wildcards within a phrase.
Excluded terms: -
Use - in front of a word or phrase to indicate that the term must not appear in the record.
Alternate terms: |
To match any one of a number of alternative terms, put a | between them.
Field search: ti:, au:, su:
Use ti: in front of a word or phrase to search only document titles. Use au: and su: to do the same for author/creator names and subject headings/keywords.
Searching for Maps:
To search for maps within the Canadiana collection, users may consult the collection page (Maps - Canadiana) to browse by Province/Territory or to browse the collection as a whole.
Additionally, maps can be found by their National Topographic System (NTS) number. To locate the relevant NTS number and general information about how to use the National Topographic System, please consult the National Topographic System Index Maps, which are provided by Natural Resources Canada.
To search the Maps collection by National Topographic System (NTS) number, please enter "x0" before the 5-digit NTS number. For example, to locate the map titled "Adair Creek, Alberta" please enter "x084M01" with quotations marks around the number in the search bar.
Downloading PDFs
In addition to providing an image viewer for collection content, CRKN provides different options for downloading content. Please note that some of the following options are available only for certain items.
• Single image download: press the

button in the lower left corner of the image viewer.
• Single PDF page download: press the

button in the lower left corner of the image viewer. This will generate a text-based PDF file of the page currently being viewed, and whose text can be searched using most common PDF readers.
• Multi-page PDF download: press the
button in the lower left corner of the image viewer, if available. This will generate a text-based PDF file of the entire item in question. The PDF text can be searched using most common PDF readers. Note that very large PDF files may not open properly on all computers or in all PDF readers.
For alternate multi-page download options, please read the section below.
Downloading content using third-party tools
Not all items within our collections are available as either single or multi-page PDF downloads. However, it is possible to download multi-page PDF versions of content from our collections using alternative third-party tools, including reels or other items for which there is no multi-page PDF download option. Third-party tools also make it possible to download page ranges rather than entire reels. This can be helpful if only a subset of an otherwise unmanageably large reel is required. We have provided a brief guide on using one such tool below.
PDiiiF is an open-source third-party tool that facilitates the creation of image-based PDF content from Canadiana. This can permit you to create, download, and manipulate the page parameters of multi-page PDFs. The developer of the PDiiiF tool has provided a public version of the tool at no charge (and with no warranty!). However, CRKN staff endorse the use of this tool, and can field inquiries about the tool if questions or concerns arise.
**Please note that this tool is not maintained or managed by CRKN staff, and thus errors or site outages are out of CRKN's control. The tool only generates image-based PDFs, whose text is not searchable from within a PDF reader without further manipulation.
To use the PDiiiF tool, please follow these steps:
1. Navigate to the item you wish to create a PDF for.
2. Then, modify the URL of the item to make it PDiiiF compliant. To do this, edit the URL in your search bar by changing the term "view" to "iiif," and the page number (which is the final number in the URL) to "manifest".
For example:
Original URL: https://heritage.canadiana.ca/view/oocihm.lac_reel_h1023/1
Modified URL: https://heritage.canadiana.ca/iiif/oocihm.lac_reel_h1023/manifest
3. Navigate to pdiiif (jbaiter.de). Copy and paste the modified URL into the "Manifest URL" bar. The page should now look like this: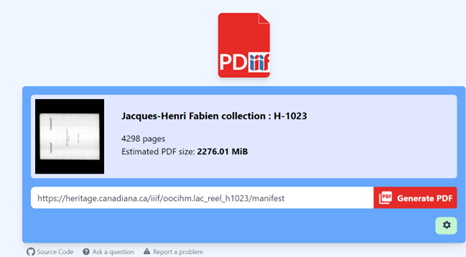 4. To download the full item, click the "Generate PDF" button.
5. If you wish to download a specific page range within the item, click the green Settings button in the lower right-hand corner of the tool. The tool will allow you to input single pages in addition to ranges (ex. 1, 10-200).
You will be prompted to save the file based on your browser settings.
Tips for Navigating the Héritage Collection
Clicking on the About tab of an individual series and reading the notes in the Description field can provide hints on how those documents and reels are arranged and whether or not a finding aid or index has been created for it. pan>
Finding aids: The collections in Héritage are digital versions of microfilm collections held at Library and Archives Canada (LAC). LAC has created finding aids for many of these collections which can be found either on the digitized reels at Héritage or on the LAC website.
Reference guides: Several reference guides have been developed to assist researchers with navigating the following series. These guides have been developed by Library and Archives Canada (2013) or CRKN staff.