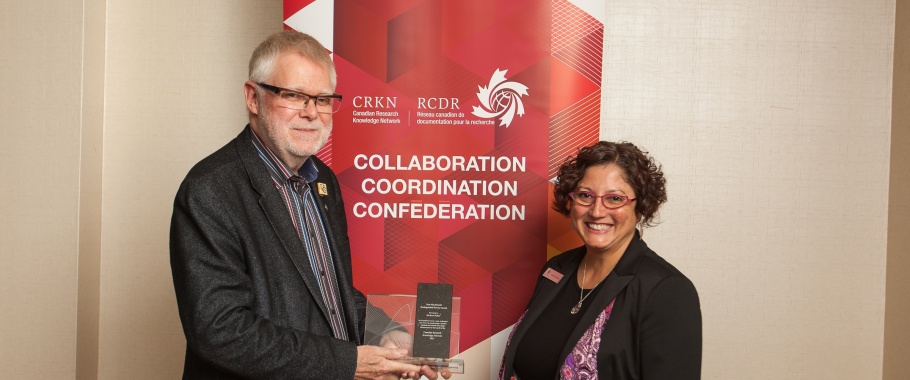 Ottawa – August 21, 2015 – The Canadian Research Knowledge Network (CRKN) is pleased to announce Michael Ridley as the recipient of the Ron MacDonald Distinguished Service Award for 2015. The award will be presented on October 21, 2015 in Ottawa as part of CRKN and CARL's joint fall meeting. The award celebrates Michael Ridley's contributions to digital scholarship and the library profession.
Mike has served in leadership roles in numerous library associations and organizations during his career, including the Ontario Council of University Libraries, CARL and CUCCIO, serving most recently as the Treasurer of the Canadian Library Association. He has been a sought after speaker for national and provincial library association meetings, and equally valued for his contributions to academic library review committees and as an external reviewer in numerous promotion and tenure proceedings. During his career, Mike has made many contributions in the form of services and solutions benefitting library users within Ontario and beyond that endure to this day, including the shared platform, Scholars Portal.
Mike's involvement with CRKN spans several decades and his leadership and support for CRKN has contributed to the valued and healthy condition in which CRKN operates now. Mike was a Director of the CRKN Board from its formation in 2004 to 2011. During that time, he served as the Chair of the Negotiations Resources Team (now Content Strategy Committee) from 2004 to 2007, including leading the preparation of the 2007 submission to Canada Foundation for Innovation (CFI) for the Digital Content Infrastructure (DCI) project. Subsequently, he served as Board Vice-Chair and Chair of the Executive Committee from 2008 to 2011, overseeing the development of CRKN's HR policy framework. During his tenure on the Board, he often served as a facilitator or Master of Ceremonies at many CRKN events including the first ceremony presenting this award to Jonathan Blay in 2010.
Most recently, in 2013-2014 under secondment from the University of Guelph, Mike served as Project Manager for the Integrated Digital Scholarly Ecosystem (IDSE) initiative, drafting the first Integrated Digital Scholarly Ecosystem (IDSE) report, describing the current ecosystem and offering CRKN many significant recommendations for areas of future collaborations and contribution in this space.
Mike continues to work as a librarian and instructor at the University of Guelph, where he served formerly as CIO and Chief Librarian. He continues to contribute to the profession, participating extensively on social media, mentoring new librarians, and challenging conventional thinking about literacy. His interests include libraries, literacy, information technology and higher education.
The Ron MacDonald Distinguished Service Award was introduced by CRKN in September 2008 to honour the late Ron MacDonald who was a member of CRKN's Negotiations Resource Team from February 2000 to July 2007 and who played a key role in establishing CRKN's collaborative programs and services.
About CRKN
The Canadian Research Knowledge Network is a partnership of Canadian universities, dedicated to expanding digital content for the academic research enterprise in Canada.  Through the coordinated leadership of librarians, researchers, and administrators, CRKN undertakes large-scale content acquisition and licensing initiatives, licensing over $1.07 billion in content since 2000, in order to build knowledge infrastructure and research and teaching capacity in 75 of Canada's universities.