Our 2018 Annual General Meeting (AGM) was held from October 16 to 18, 2018 in Vancouver. 88 CRKN members, stakeholders, and special guests attended the AGM and enjoyed the unseasonably warm and sunny temperatures in Vancouver. 
This year, in addition to the AGM, CRKN co-hosted the Joint NHDS & CRKN Workshop on Documentary Heritage. Please visit www.crkn-rcdr.ca/en/joint-nhds-crkn-workshop-documentary-heritage-recap for a summary of the event and to watch a recording of the keynote and panel presentation.  
Directly following the Joint NHDS & CRKN Workshop, was the official welcome reception held in SFU's Segal Building. During the reception, Dr. Alan Shepard, CRKN Board Chair and President of Concordia University and Gwen Bird, CRKN Board Vice-Chair and University Librarian and Dean of Libraries at Simon Fraser University welcomed guests to Vancouver.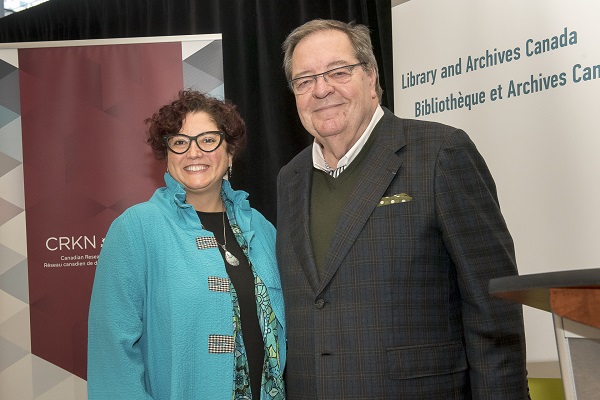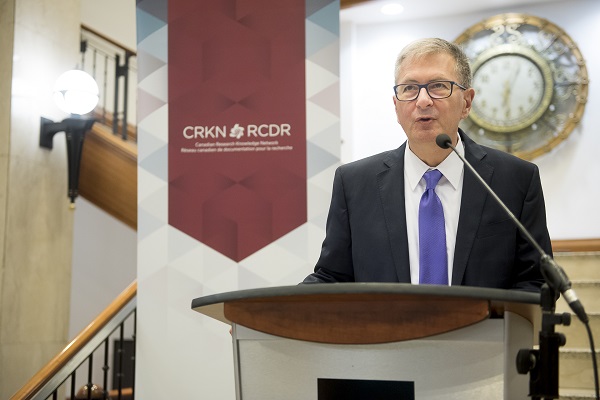 Keynote Address
Wednesday, October 17, 2018, opened with a keynote address from Dr. Deanna Reader and her research team, Dr. Margery Fee, Alix Shield, and Treena Chambers to discuss The People and the Text project. The People and the Text project is collecting and studying Indigenous writing in northern North American to 1992, which is one of the most neglected literary archives in English Canada. Dr. Reader and her team encouraged the Canadian library community to recognize traditional cataloguing as a form of inherent bias and to make space on our physical and digital "shelves" for literary works by Indigenous authors. Crucial feedback on the Canadiana content and structure of the collections, notably, encouraging CRKN to update Canadiana descriptions as they relate to Indigenous peoples was also shared. Watch the video recording of this session below.
Canadiana Update
A Canadiana Update Session followed, moderated by Dana McFarland, Vice-Chair of the Preservation and Access Committee (PAC) and eResources & Scholarly Communication Librarian at Vancouver Island University. The session provided an overview of the work of the PAC, as well as the Canadiana platform development plan, and a status update on digitization work. The panelists, including Clare Appavoo, Executive Director, Sascha Adler, Lead Application Developer, and Beth Stover, Manager, Digitization and Heritage Collections, discussed opportunities related to providing access at no charge to the Canadiana collections as of January 1, 2019. Members shared a number of recommendations to be considered by the PAC with regards to the prioritization of metadata updates and improvements, as well as steps to ensure that the Canadiana content is culturally sensitive.  
Licensing 
Todd Mundle, Chair of the Content Strategy Committee (CSC), and University Librarian, Kwantlen Polytechnic University, moderated the Licensing Session which provided an update on CRKN's 2018 negotiations and 2019 negotiation priorities from CRKN's licensing team, Jason Friedman, Senior Member Services Officer, Craig Olsvik, Senior Content and Licensing Officer, and Monica Ward, Senior Content and Licensing Officer. The session also included an overview of CRKN's negotiation process provided by Arnald Desrochers, CSC Member, and Chargé de projet – Achats en commun, Bureau de coopération interuniversitaire. A discussion on CRKN's licensing first principles was also initiated during the session. No updates to the first principles were proposed by members for the moment. CRKN will continue to invite feedback on the principles as the scholarly communication landscape evolves.  
Outcomes of the Trusted Digital Repository Task Group (TDRTG)
Craig Olsvik and Émilie Fortin, TDRTG Member and Chef de la section Production numérique, préservation et conservation des collections, Université Laval presented on the outcomes of the TDRTG. The session highlighted recommendations, proposed implementation, and financial considerations of expanding Scholars Portal as a national Trusted Digital Repository (TDR). At the Meeting of the Members on October 18, 2018, members voted in favour of CRKN proceeding with the next steps of this project.  
Approaches to Open Access
Todd Mundle moderated the open access session and started by providing some context for the discussion including the 2016 AGM open access session and CRKN strategic planning which has included recommendations on CRKN role in open access. Speakers Pamela Jacobs, CSC Member, and Head, Collections and Content, University of Guelph, and Denise Koufogiannakis, CSC Member, and Associate University Librarian, University of Alberta provided an overview of international and national open access initiatives as well as additional context for the discussion, including the recommendations from the License Transition Task Group. Denise included an overview of some of the recent open access models and approaches being taken by other consortia and publishers worldwide. 
This session included guest speaker, Colleen Campbell, OA2020 Partner Development from the Max Planck Digital Library to discuss the varied approaches to OA2020 globally. A video recording of the session, as well as Colleen's presentation, is available below. 
The session closed with an interactive activity to discern the role that CRKN should take in open access.. Members were asked to brainstorm the approaches they would like CRKN to take and determine if CRKN should lead, support, or be aware of the various approaches. Members made dozens of recommendations regarding CRKN's future role in open access. These recommendations will be discussed at the next CSC meeting and included as part of the CRKN's Board of Directors strategic planning session in January 2019. 
Ron MacDonald Distinguished Service Award Reception
Following Wednesday's sessions, AGM delegates and special guests were invited to the Ron MacDonald Distinguished Service Award Reception hosted by CRKN Board Chair Alan Shepard at the Bill Reid Gallery of Northwest Coast Art. The 2018 reception honoured Benoit Séguin, as the 2018 recipient of the Ron MacDonald Distinguished Service Award. A respected leader and collaborator, Mr. Séguin has dedicated his career to increasing access to scholarly content for Canadian researchers. Over the span of his 34-year career, he has taken an active role in both provincial and national initiatives aimed at advancing access to research and enhancing Canada's research infrastructure. To read the award announcement, please visit: www.crkn-rcdr.ca/en/benoit-seguin-named-recipient-2018-ron-macdonald-distinguished-service-award.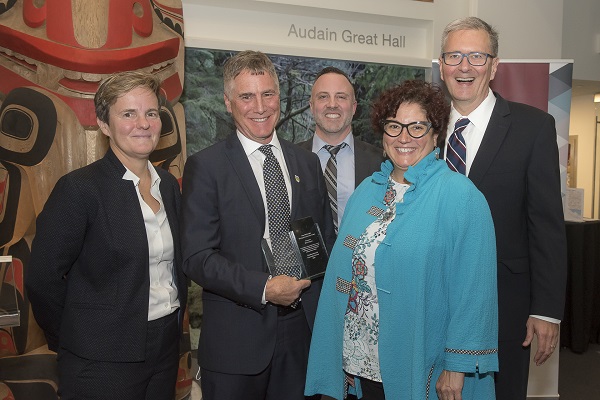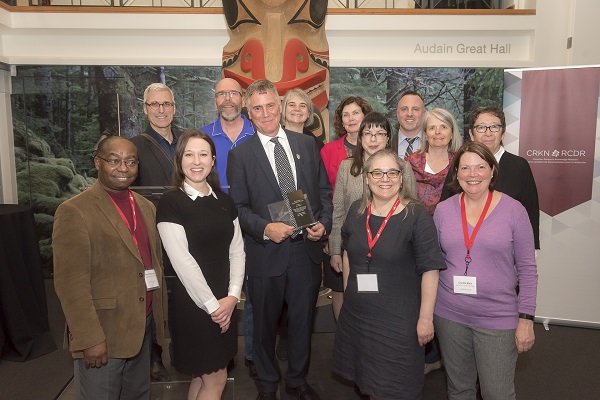 Strategic Planning Session
Thursday morning started with a strategic planning session for CRKN members, facilitated by CRKN's strategic planning consultant, Julien LeBlanc. Building on the member online consultations earlier in the fall, members were asked to envision the future of CRKN through activities and a facilitated discussion. 
The outcomes of the strategic planning consultation will be included in the consultation report presented to the Board of Directors for their strategic planning session in January 2019. 
Meeting of the Members
During the meeting of the members, reports were received from the Board Chair and Executive Director. CRKN's Treasurer reported on the financial statements for 2017/2018 and budgets for 2018/2019 and members were asked to approve the appointment of auditors.  The Chair of the CSC provided a formal report on 2017/2018 negotiation outcomes and the activities of the CSC. Members confirmed new Board members as elected. In addition, CRKN members voted to amend the CRKN By-laws to include Bibliothèque et Archives nationales du Québec, Library and Archives Canada, the Toronto Public Library, as institutional members of CRKN. 
The CRKN Board of Directors met immediately following the business meeting to finalize the Board slate, including reappointing  Alan Shepard as Board Chair, Larry Alford to the balance position, and Gwen Bird as Vice-Chair, as well as appointing Melissa Just to the Executive Committee
Thank you to all those who attended the 2018 CRKN AGM. Save the date for the 2019 AGM which will be held in Ottawa, Ontario, October 15 to 17, 2019.