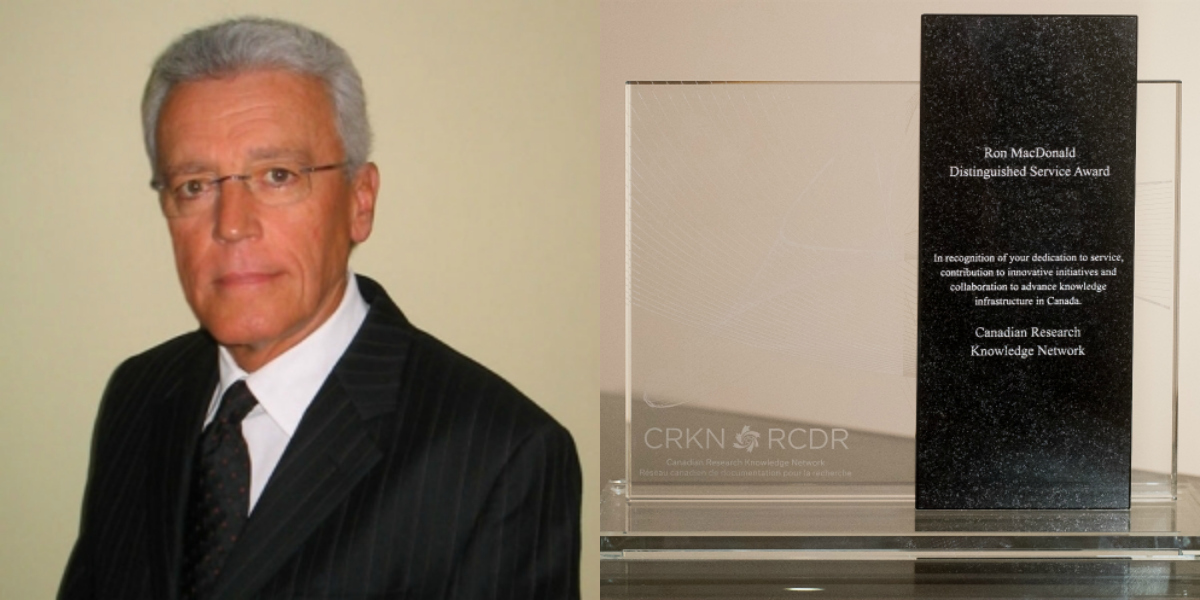 Photo: Ron MacDonald
The Ron MacDonald Distinguished Service Award was created by CRKN in September 2008 to honour the late Ron MacDonald. Ron served on the Negotiations Resource Team from the inception of the Canadian National Site Licensing Project in 2000 through to July 2007, and was a key contributor in the development of CRKN's collaborative programs and services.
The award is intended to recognize an individual within a member institution who has demonstrated vision, dedication and outstanding service in building bridges and collaboration to advance knowledge infrastructure in Canada. The award consists of recognition through an engraved trophy and citation.
Award Selection Criteria:
Demonstrated vision, integrity and positive values;

Established new connections within the membership and/or with like-minded organizations;

Contributed to the advancement of the knowledge infrastructure;

Made a positive contribution to CRKN's organizational development;

Made contributions towards the advancement of scholarly communications to the benefit of CRKN members and the broader community; or

Made contributions towards access to research content or access to Canada's documentary heritage and contributions to cultural heritage to the benefit of CRKN members and the broader community.
Recipients

2022   Larry Alford
2021   Jonathan Bengtson
2020   Tony Horava
2019   Christopher Callbeck
2018   Benoit Séguin
2017   Brian Owen
2016   Leslie Weir
2015   Michael Ridley
2014   Carole Moore
2013   Jocelyn Godolphin
2012   Ronald Bond
2011   Jean-Pierre Côté
2010   Jonathan Blay