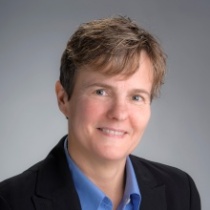 Gwen Bird
University Librarian
Simon Fraser University
Gwen Bird has been Dean of Libraries at Simon Fraser University since October 2014. Previously, she served as Executive Director of the Council of Prairie and Pacific University Libraries (COPPUL) from 2011 – 2014, coordinating collaboration between western Canadian university libraries. During this time she was active in the International Coalition of Library Consortia (ICOLC), and the international shared print archiving community. 
Prior to her appointment at COPPUL she was Associate University Librarian, Collections and Scholarly Communication at SFU, with overall responsibility for collections management, the acquisitions budget, and licensing of electronic resources. From 2003 – 2008 she was a member of the Content Strategy Committee at CRKN (then the NRT). Gwen's research and professional interests include shared print archiving, library collaboration, and collections management. 
A Toronto native, Bird earned an honours BA in English at Cornell University in Ithaca, N.Y. in 1986, followed by a Master of Library Science at the University of British Columbia in 1992.