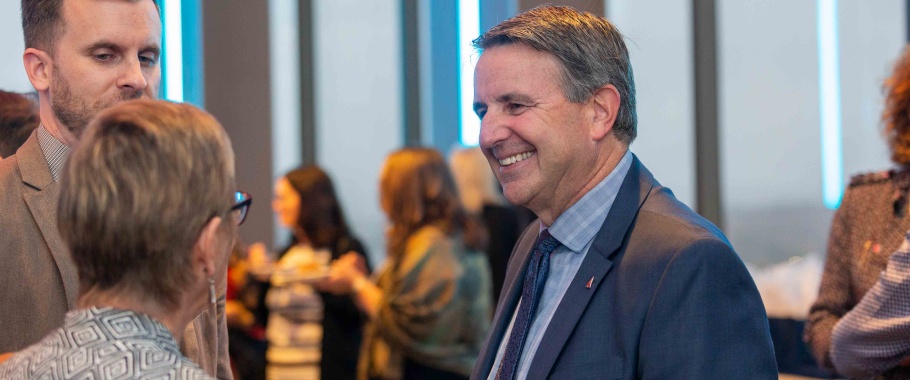 The inaugural CRKN Access to Knowledge Conference was held from October 16 to 18, 2019 in Ottawa. A sold-out event, the conference welcomed 150 members, stakeholders, and special guests, as well as more than 70 remote attendees who participated via the conference live stream. The three-day conference included a full day dedicated to CRKN business, the Transforming Scholarly Communications: Developing Canada's Open Access Strategy workshop, and a day of programming on Digital Heritage Content and Preservation.
The conference also featured a Conference and Award Reception on October 16 honouring Christopher Callbeck, Vice-President, Finance and Administration and Chief Financial Officer, Acadia University as the 2019 recipient of the Ron MacDonald Distinguished Service Award. On October 17, attendees were welcomed at the All-Delegate Reception at the University of Ottawa, hosted by Talia Chung, University Librarian and Vice-Provost (Knowledge Systems) at the University of Ottawa, with the assistance of Larry Alford, Chief Librarian at the University of Toronto and CRKN Board member.
Wednesday, October 16
The CRKN Access to Knowledge Conference began with an introductory presentation on CRKN for new members given by Ryan Chen, Finance Officer; Amanda Holmes, Licensing Officer; Émilie Lavallée-Funston, Member Services and Licensing Officer; Craig Olsvik, Manager, Licensing; and Beth Stover, Manager, Digitization and Heritage Collections. Members and guests were also given a private tour of Library and Archives Canada's Preservation Centre located in Gatineau, Quebec, facilitated by Natalie MacDonald, Metadata Analyst.
Following an introduction by Clare Appavoo, Executive Director, and a welcome prayer by Moose Cree elder Thomas Louttit, the Licensing session was opened by Todd Mundle, Chair of the Content Strategy Committee (CSC), and University Librarian, Kwantlen Polytechnic University. Amanda Holmes and Craig Olsvik provided updates on CRKN's 2019 negotiations and 2020 renewals which garnered discussion from the audience for both current renewals and next year's renewals. This session also included an update on the banding system and its application to several licenses since 2016. Todd Mundle provided a summary on the principles that guided the Banding Task Group's work and the resulting recommendations. It was suggested that the banding system be further leveraged during the negotiation process.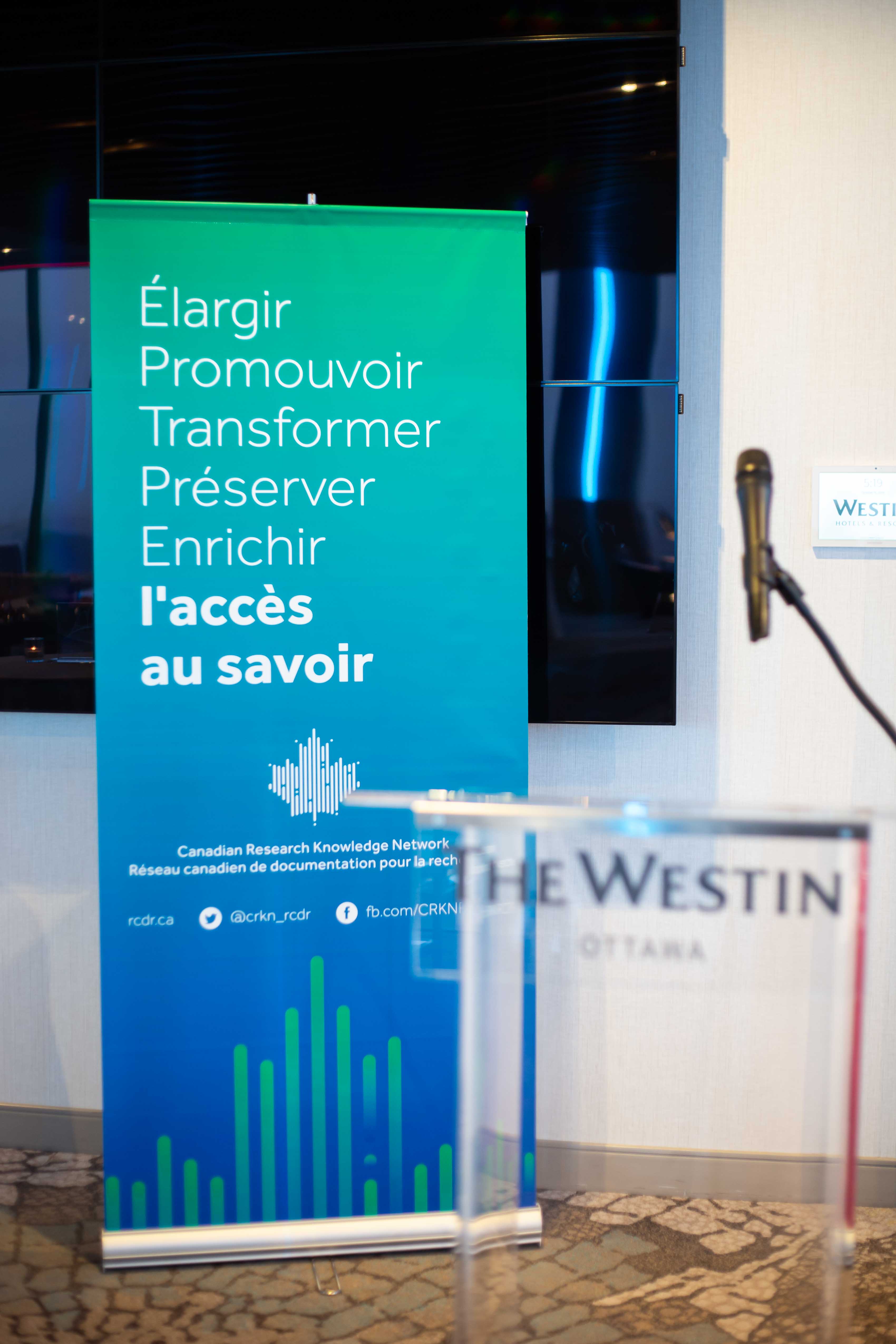 A session on CRKN's Digital Heritage Content activities followed, moderated by Rebecca Graham, Chair of the Preservation and Access Committee (PAC) and University Librarian at the University of Guelph. Beth Stover and William Wueppelmann, Manager, Canadiana Platform, reported on the major highlights over the past year and expanded upon future initiatives to grow the collections and update the Canadiana platform with industry-standard features. Participants then workshopped a set of "big questions" on how CRKN's heritage activities should be conducted going forward, leading to conversation on the future scope of Canadiana content, improving the website's user experience, and access to the Canadiana Trusted Digital Repository (TDR).
Next, a session on CRKN's partnerships and collaborations, featuring Greg Eow, President of the Center for Research Libraries; Susan Haigh, Executive Director of the Canadian Association of Research Libraries; and Tanja Niemann, Directrice générale at Consortium Érudit, showcased the importance of national and international collaborations in advancing digital scholarship.
The first day of the CRKN conference ended with a session on the CRKN 2019-2024 Strategic Plan, led by Melissa Just, Board and Executive Committee member of CRKN and Dean, University Library at the University of Saskatchewan. The session included an overview of successes of the 2016-2018 strategic plan from Clare Appavoo and summary of the 2019-2024 strategic planning process from Rebecca Ross, Director, Strategy and Engagement. The plan was applauded for its ambitious scope, effectiveness in capturing member needs and feedback, and contributions toward advancing access to knowledge. Presentations from Wednesday, October 16 are available in the members only section of the CRKN website.
Thursday, October 17
The second day of the conference began with the annual meeting of the members. CRKN members received reports from the Chair of the Board and Executive Director, as well as from the Chairs of the CSC and PAC. CRKN Treasurer, Ian Nason, Vice-President, Finance and Administration at Dalhousie University, reported on the financial statements for FY2018-2019 and CRKN's upcoming budget, before members voted to approve the appointment of auditors for FY2019-2020 and the 2019-2024 Strategic Plan. The membership was made aware of changes to the Board, including newly elected, continuing, and departing members. Immediately following, the Board met to appoint three additional positions, including Dr. Annette Trimbee as the new Chair of the Board, replacing Dr. Alan Shepard, having completed this three-year term. We welcome all the incoming Board and Committee members and thank those whose terms have ended for their dedication and support of CRKN.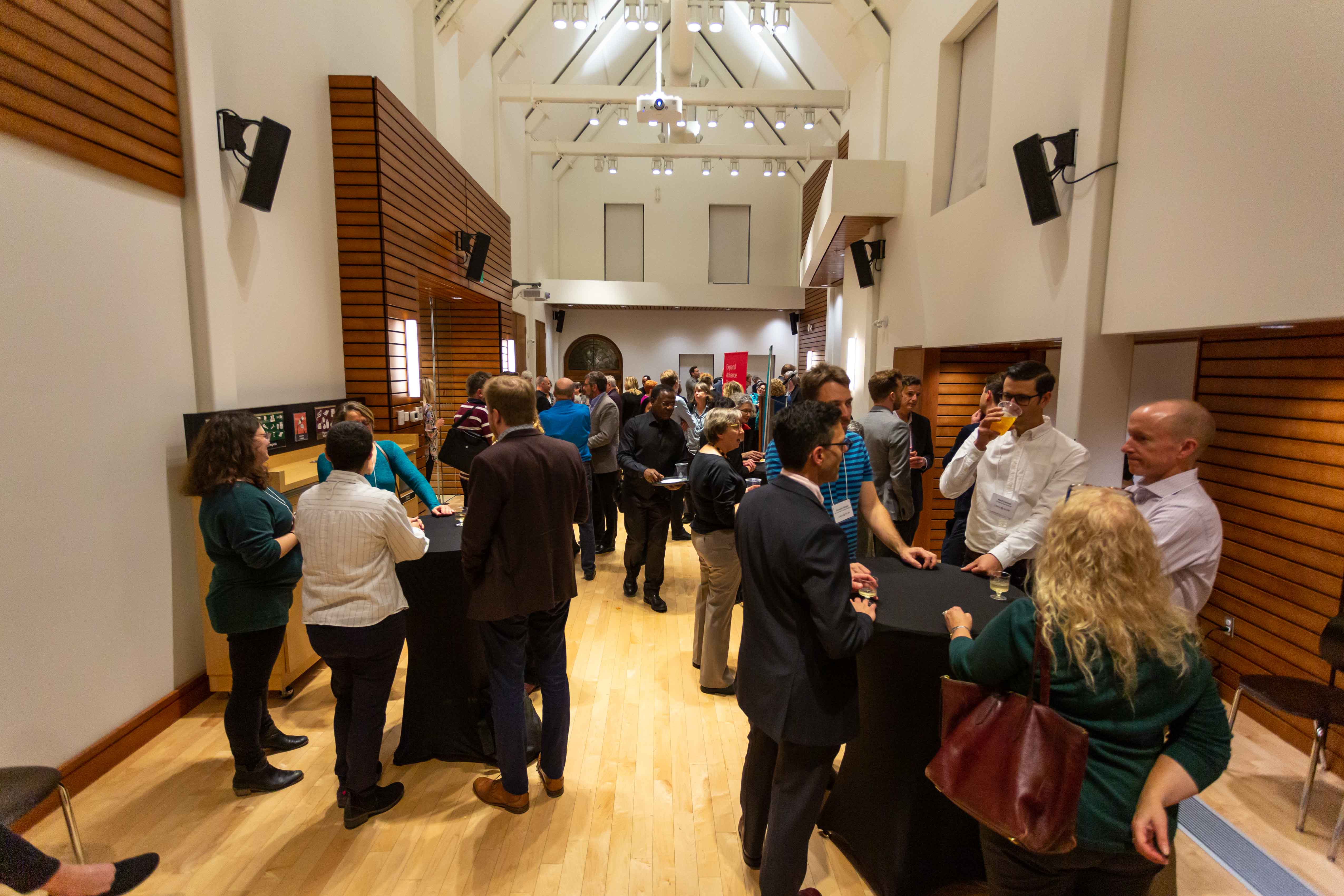 Conference delegates then assembled for the Transforming Scholarly Communications: Developing Canada's Open Access Strategy workshop. Delegates heard from a diverse range of Canadian and international speakers who discussed their open access initiatives and outlined how they are using transformative agreements in the movement toward open access. Through a series of panels and discussions, delegates worked through key aspects of successful transformative agreement strategies, including aligning stakeholders, agreement structures, and approaches. Through the facilitated workshop, participants shared insights on the purpose, principles, participants, practices, plan of action, and pledge needed to support open access. At the end of the workshop, by show of hands, members and stakeholders supported CRKN in taking the next steps by developing a multi-stakeholder working group. Presentations and video recordings from the Transforming Scholarly Communications workshop are available in the members only section of the CRKN website. If you are not a CRKN member and would like access to the presentations and videos, please contact rross@crkn.ca.
Friday, October 18
The final day of the CRKN conference began with an Overview of the Canadiana Collections, led by Francesca Brzezicki, Communications Coordinator; Émilie Lavallée-Funston; and Beth Stover. Immediately following, staff and delegates welcomed Leslie Weir, Librarian and Archivist of Canada, to give a keynote address on the current landscape and future potential of Canadian libraries and archives. Key points included balancing the digital presence of libraries and archives, reaching out to youth, enhancing preservation spaces, and ultimately working together with other institutions and the public to make materials more accessible.
Following the keynote, delegates engaged in a range of sessions covering aspects of digital heritage content and preservation. In the Joint NHDS and CRKN Session on Digitization Strategies in Canada, participants discussed the idea of a centralized collection of digital heritage, the management of materials with Indigenous content, and ways to make digital collections more discoverable. This session was followed by a panel on Decolonizing Metadata in Canada, featuring representatives from CRKN, Library and Archives Canada, the University of Alberta, and the University of Saskatchewan, who discussed how their respective institutions are approaching decolonizing metadata and descriptions that are often decades old.
A 90-minute session on Sharing Digital Heritage Through Technology brought together representatives from a range of organizations who explored how they provide access to digital content (particularly for Indigenous communities), how they take steps to preserve content, and how they are training the next generation of digital archivists and historians.
The third day of the conference closed with the Joint NHDS and CRKN Session on Rights and Permissions of Digital Heritage Content, which facilitated a lively discussion of how rights statements can be used to promote open access, efficiently help researchers find material they can use, and advance standardization initiatives. Panelists in this session included the New York Public Library, CRKN, the British Columbia Electronic Library Network (BC ELN), and Bibliothèque et Archives nationales du Québec.
A recurring theme during the CRKN conference was: "Just do it." Taking a proactive approach to scholarly communications, open access, and digital heritage is not only part of CRKN's mandate, it is a goal shared by the wider community. As we look forward to the next CRKN Conference, taking place in Fredericton, New Brunswick from October 21 to 23, 2020, we thank our members, stakeholders, and guests who attended this year's event and anticipate building upon our shared goals and initiatives for the future. See you in 2020!